Experience Real African Life
Breathtaking Scenery, Wildlife & Superb Riding.
Trophy hunting is surely the purest form of conservation. Trophy hunting does not only remove the animals that are past their prime or have been rejected from the herd, but also create space for a new generation to breed. When you look at Namibia's success with conservation there is no doubt that trophy hunting played a major role in the sustainability of Namibia's wildlife.
Trophy hunting also provides foreign income to the country creates job opportunities and provides a valuable protein source to many less fortunate communities.
Trophy hunting is the backbone of taxidermists and shipping companies in this country and again one has to look at the numerous job opportunities created indirectly by trophy hunters.
Wildlife numbers in the country have significantly increased since the introduction of trophy hunting, almost 6-fold. That is in stark contrast with countries that stopped trophy hunting and where the wildlife numbers steadily decreased due to 2 reasons:
1. Poaching
2. There is no value in wildlife for the locals. They see these animals as competition for grazing of their domestic stock and wildlife is killed at random.
Hunting season start from the 1st of Feb and end on the last day of November.
A hunter can legally shoot and export two (2) trophies of every specie, listed on the Trophy Hunting Permit. Trophy Hunting Permits are applied for by the outfitter.
Every PH can legally hunt with 2 clients, unless the clients wants to hunt one-on-one
Every trophy taken has to comply by a minimum standard, according to Namibian law. Trophies are measured by the SCI measurement method
A minimum caliber in the range of 300 Win. Mag is suggested.
Calibers smaller than this minimum can be used on certain species, but will not be allowed on larger species such as Eland, etc.
Bring a rifle that you are most comfortable with. A heavier caliber is recommended for larger animals. When entering Namibia, have a document at hand that states proof of ownership, as well as a letter of invitation that will be provided by the outfitter. You will be issued a Temporary Import Permit upon arrival. Up to 80 rounds of ammunition per rifle are allowed.
Clients must supply their own ammunition.
The outfitter does have rifles available to use, if clients prefer not to travel with their own.
It is recommended that a soft rifle bag, in addition to the hard travel case, be brought along for transport of firearms between hunts
Climate varies a lot, based on the season and location.
Pack light. You're more likely to regret packing too much than too little.
Don't pack your best clothes. Everything seems to have stickers. Opt for casual, comfortable basics you can afford to part with if need be.
Layers. Temperatures across Namibia fluctuate greatly, even day-to-day. Mornings and evenings can get down to freezing (yes, really), while days can be hot and sunny. Pack, and dress, in a way that you can throw on more layers as the mercury drops and strip off as the heat of the day begins to take over.
Comfortable shorts and long pants as well as long sleeve cotton shirts are recommended. The sun is brutal, so tries to cover as much skin as possible and lots of sunscreen, off course.
A good insect repellant is always a good idea.
Well broken-in, ankle length boots
Flashlight; In Africa, your flashlight (or torch) can be your best friend. Pack a few extra batteries too.
Gaiters, (sock covers) for protection against grass and stickers
Gloves
A wide brimmed hat
Very important, a good set of binoculars.
Toiletries
Mosquito repellant (the most effective includes DEET)
Antihistamines for bug bites and allergic reactions
Painkillers, e.g. aspirin or Tylenol
Cold and flu medicines
Diarrhea medication, e.g. lipoamide
Antiseptic cream
Band-Aids
Prescription medicines
A spare pair of glasses for those that wear contact lenses (it's often too dusty to wear them comfortably)
First Aid
Every camp or lodge will have at least a basic first aid kit, and all hunting vehicles will too However, it's always a good idea to bring your own small supply of hygiene and health essentials.
Electronic Devices
Power supply is 220 volt. Make sure that chargers can handle 110-220 volts. US brand hair dryers do not work
Spare memory cards
Spare camera battery
Spare AA and AAA batteries
Electrical adaptor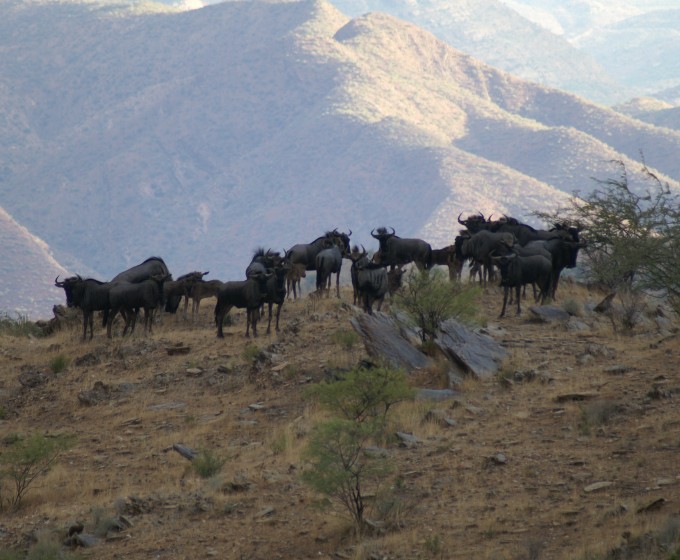 Hunting Areas
To get over the jetlag, your safari will begin on Kiamsab, the home ranch. Here you will get the choice to hunt either on foot or on horseback for Kudu, Hartmann Mountain Zebra, Oryx/Gemsbok, Blue and Black Wildebeest, Hartebeest, Springbok, Warthog, Klipspringer, Steenbok, to name just a few.
To give you the best option on outstanding trophies and to help fulfill your pursuit for unique and rare species, we will use some of our other concessions throughout the rest of the country. Everywhere we hunt, we stay in lodges.
We pride ourselves that we hunt in the most ethical way possible, with conservation in mind. We are really conservative on the numbers and quality of trophies that are harvested on all the concessions.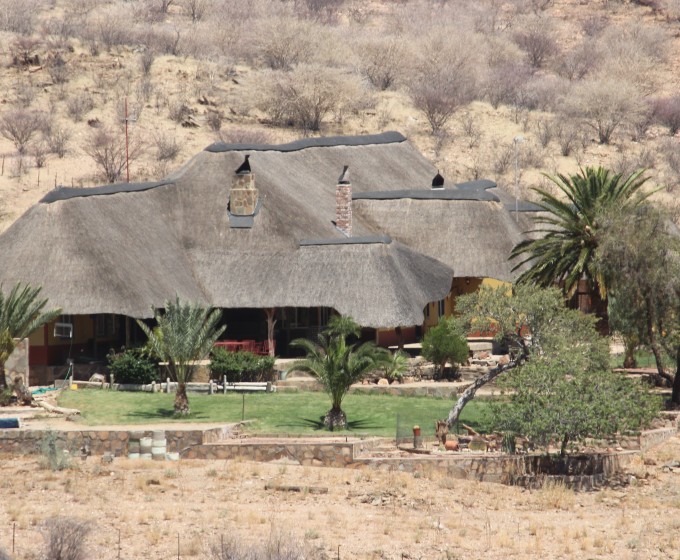 Accommodation
The main lodge is situated an hour's drive to the west of Windhoek (about 90 km/60 miles) and one and a half hours from the airport.
This is your home away from home, with true ranching hospitality and friendly staff. Every meal is enjoyed around the family table. Every day starts with a hearty breakfast, of eggs, bacon toast, etc. Lunch is normally sandwiches and fruits, that are enjoyed out while hunting and dinners consist of game meat and red wines. Cooking is very German and consists mostly of meat off the animals harvested during the safari.
The lodge offers 5 rooms, with modern ensuite bathrooms.
Daily laundry service. (If not daily, then definitely every other day).
We would love to hear from you